The Secret to making your child's
birthday UNFORGETTABLE…

My whole professional life I have worked with children and I know how to connect with them and make their birthday parties fun and worry free! My program guarantees a big hug from your child and confidence that the day will go smoothly with entertainment from a pro!

"Just wanted to let you know how much we enjoyed the performance for Jake's birthday. It's not easy to keep the attention of a room full of 8-year-olds, but you were more than successful!" - Molly Peterson (Jakes Mom)

When you are shopping for a performer it's important to know that you truly do "get what you pay for". In my case, you are paying for a full-time performer who shares over 250 shows a year. A school assembly performer who wrote a book for teachers called "Magical Connections: Capturing the focus and attention of your students like MAGIC!". I understand kids and truly love what I do, and the results are lots of smiles and excitement throughout the entire show. Plus, with my years of experience you can sit back relax and watch the FUN!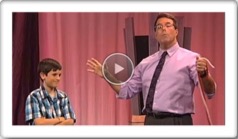 With years for educational programs all over a 5 state area, I started my own cable series, "The Magic In YOU!" to view some of those programs,
CLICK HERE
.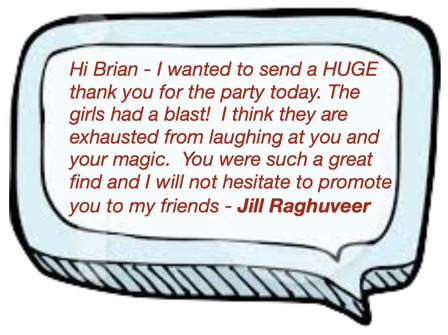 During my 30-35 minute birthday party show the kids are more than observers, they are active participants in the show. Whether it's shouting a magic word, waving a magic wand or doing the magic they will remember the experience.

In addition to my school assembly programs, I have performed at libraries, Fairs & Festivals, the Minnesota Zoo, Science Museum, MN. State Fair and was a featured performer at the Mall of America for 3 years at the World's largest indoor trick or treat event! So if you want quality children's entertainment with a "hug guarantee" from your child your at the right place!

I offer 3 packages and DO NOT require a down payment. Payment is due at the beginning or end of the program and if you are not happy you owe me nothing! But when you see the smiles, listen to the reactions, I know you'll be thrilled with you decision to have Brian Richards at your event.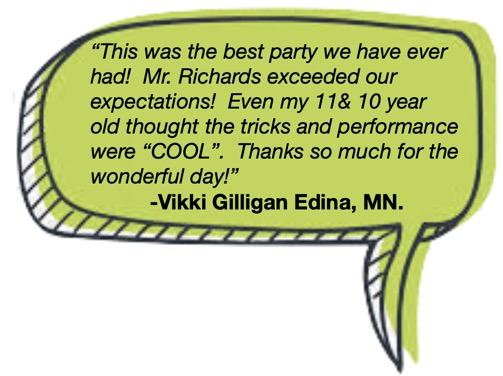 Basic Package:
30 - 35 minute performance that features the star YOUR CHILD! I offer 3 different shows based on age of audience from 3-10 years of age.
If your child is 10 or over I suggest the MAGIC WORKSHOP SHOW below.
At the end of the basic program each child gets their own magic "BIG BUCK" that teaches 2 magic tricks and the SECRET LINK to my FREE Magic Workshop site where they can learn many other tricks via video or online documents. So besides a great show the take something home that lasts and is educational as well. The birthday child receives a special magic booklet that teaches magic tricks that can be done with things around the house!


COST: $210.00
Deluxe Package:
The show is the
same
, the difference is in what the children receive. Each guest gets a magic brochure that teaches a number of magic tricks. Plus, inside each brochure are 2 specially printed playing cards for a trick that I teach then at the party! The Birthday child gets a mini magic set with the brochure, card trick, 3 other magic tricks and another magic booklet with 102 different tricks…and everyone get their own magic "BIG BUCK" as in the basic package…


COST: $225.00
Premium Package:
Everything in the deluxe package
, plus balloon animal for each guest. For the Birthday child they get a special balloon hat, and two balloon animals (one for each hand)!


COST: $245.00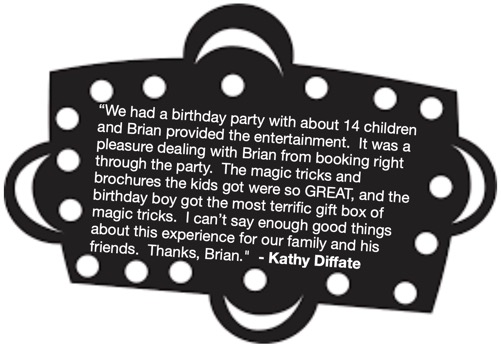 So what it boils down to is 30-35 minutes of me taking control of the kiddos so you
can relax and enjoy the moment!
Workshop Package:
This show us for kids 11+ years of age. In this workshop I share a 20 minute simple magic workshop with the kids using things around their home. I then follow that up with a 20 minute show where I don't share the secrets just leaving 'em with their mouths hanging open!! The price of the program depends on the number of guests so call for pricing!

Even if you decide not to have me come to your party, (how sad that would be
😢
), I still want your party to go smoothly! So I have put together a FREE Birthday Party Planner for you to use to make your event UNFORGETTABLE. To get your free planner shoot me an email at:


magic@4aceproductions.com
with BIRTHDAY PLANNER in the subject line and I'll email you a planner right away!

Or if you're ready to book a program, click the button below to check on availability…